Welded Pipes - A358, A182, EFW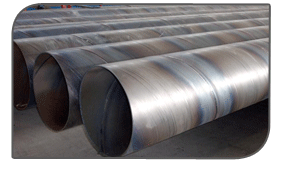 Welded Metal Pipes & Tubes Specification:
Welded pipes are cheaper than seamless steel pipes. Also, their dimensional tolerances are tighter than seamless steel pipes. As a result, they are better suited to environments where corrosion resistance is a greater factor than pressure containment. We export A358 Pipes and EFW Pipes.
Our welded pipes are rigorously tested for weld line integrity and visually inspected to ensure that we only supply the highest quality products.
We also use enhanced weld methods on our pipes. This means we can offer longitudinal and circumferential welds that easily exceed the demands placed on them by the base materials. And due to a growing global demand for transportation and storage of liquefied natural gas (LNG), we also offer welded pipes that can function at cryogenic temperatures
Our seamless pipes contain material in accordance with
• ASTM A312
• ASTM A358
• ASTM A249
• ASTM A409
• ASTM A790
• ASTM A928.
And dimensions in accordance with ANSI B36.19 & ANSI B36.10.